April 26, 2012 | Casey McClellan
NOMA Notes: Winemaker Visits Restaurant Magazines #1 Restaurant in the World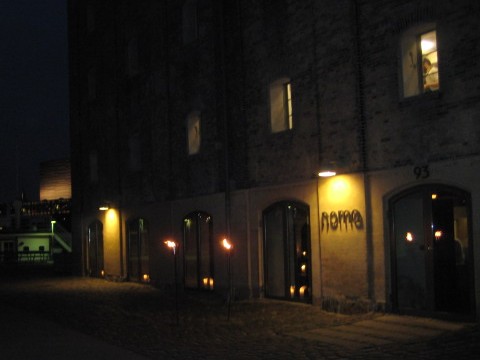 Its difficult to get a table at NOMA–the restaurant is booked months in advance. I don't recall exactly how we decided to dine there, but I think once we knew we'd be going to Copenhagen on an upcoming trip to Europe, I started googling the city. NOMA came up as one of the highlights. Vicky and I both enjoy a great meal and cuisine of integrity, vision and skill, so I began to work on a reservation. Through the generosity and kindness of both our Danish importer and Thomas Bagge at NOMA, we arranged to dine early on the evening of March 7th this year.
I did minimal research on the Restaurant other than this. I wanted to approach it with an open mind and senses. We checked into our hotel, took the S-Train to Christianshavn, and walked the last half-mile through a charming old neighborhood, across a canal and along the harbor-side docks. The restaurant itself is in an old stone salt warehouse, at the waters edge. A small, wood-masted sailing ship lay dockside outside the restaurant window, and the view was across the harbor toward central Copenhagen.
The restaurant was cozy, softly lit in warm tones, and simply decorated with a mix of bares stone walls and draped surfaces in predominantly brown & beige tones. One enters through the main doorway and immediately faces an itensely active scene in the display kitchen. The restaurant is small, seating less than a hundred I would guess. A casual lounge is on the other side of the entrance from the dining area.
There appears to be only one seating per evening, although the seating times are staggered. One is asked about allergies and food dislikes ahead of time, but only a set menu is offered, with modification if necessary. The diner is not informed of the price, nor do you see a printed menu until the end of the evening, as sort of a commemorative souvenir.
The service is attentive, but relaxed and casual. It appeared to me that there is some blurring between wait-staff and kitchen staff, as at times a cook-like person would bring the course to table, while at other times wait staff or what one might presume to be a maître 'd or wait captain would serve wine.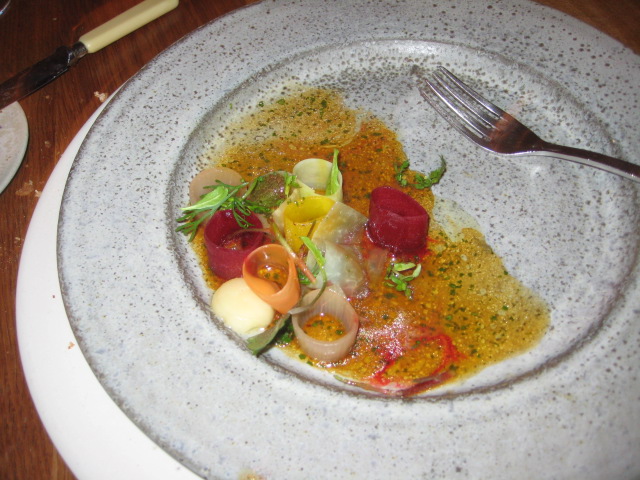 The most powerful impression NOMA conveyed to me did not come from the food itself, but from the expression of the culinary philosophy and vision. The meal as a whole sent a message about one's place in the world, about a food "ecology" , and about eating from the place you inhabit. More than anything else that night, and really unlike any other dining experience I've had in the world, NOMA can imprint this concept on the receptive diner, and it does so with a magnificent whirlwind of varied courses, that descends to the slightly repetitive only fleetingly. In a way, the meal is coursed like a Baroque musical piece, with fugue like elements appearing throughout the evening. Carrots, celeriac, and coniferous components figured strongly, as well as fruits de mer. Red meat only briefly, and mostly not muscle: marrow & skin, for example. Fowl and dairy occasionally.
Vicky and I elected to have the set wine pairings with the meal, wanting to let NOMA immerse us in what they thought worked best. The pairings tended to the obscure and sometimes marginalized wine regions of Middle Europe, with a focus on subtlety, nuance, delicacy..Austria, Beaujolais, Champagne, Germany, the Loire, Vin du Pays. In this sense, the food is definitely center stage, with the wines meant to counter point or complement in a poised way. Warmer climate, higher alcohol, and New World wines were general or totally absent. We began the meal with Champagne, and at the end of it all, I honestly think this is one of those restaurant cuisines where you could drink Champagne the whole meal, just moving up from Blanc de Blancs to Blanc de Noir, to more aged heavier styles like a Krug and be perfectly happy the entire time. The cuisine would match perfectly.
The cuisine helps you feel in touch with a place, you feel like your eating somewhere, not anywhere. It's a locavore experience that surrounds you with the idea in the dining experience, not just saying it.
The meal is served in two phases. The first is a very quick, almost breathless pace for the diner, flurry of 11 small plates, conceived to build an "energy" in the dining experience. That it did. One barely had time to talk with one's dining companion, nor to linger and think about the course just consumed. I could have wished for more time, but in the end we sat enjoyably in the restaurant for 4 &1/2 hours as it was. So..I believe they know what they're doing at NOMA. It certainly leaves you with the feeling of having been immersed in the local environment, experienced through the lens of food, after the first 11 courses. A few examples: 2 small, live shrimp, presented in a glass, lidded canning jar, on a bed of ice, tentacles waving.. Dip in browned butter, eat, (crunchy), and feel paleolithic. Dried, cured, deep fried lichen, with mushroom, like a miniature tumbleweed, eat, and feel like a reindeer or a survivalist. (I always wanted to try lichen-can now scratch off to-do list). Good, like a healthy snackfood. Frozen cod (liver, roe) pate, on herbed toast. Smooth, not fishy. What resembles an ostrich egg is brought to the table. The top is lifted to reveal 2 pickled, smoked, quails eggs on a bed of smokey straw. Delicous, one of the most sensorily evocative, poignant egg dishes of my life.
After the flurry, the pace slows, and the dishes are a little large in size. An ebelskiver like round pancake, with a small sardine like fish (cooked, smoked, pickled?) swimming through it. A single Limfjords oyster, shucked, replaced, carved, with seaweed, gooseberry and buttermilk, covered with shell, presented on a bed of seaside shingle. A tastes so much like the sea. Celeriac, unripe sloe berry and white currants, with a douglas fir emulsion sauce—coniferous, fresh, piquant and vegetatively dense and satisfying.
Desert was a mix of sloe berry sorbet, and brown cheese (sweet carmelized, think the Gjetost fad…)presented in a bowl as tiny coin sized disks laid out in a fish scale pattern, and freshened with a sloeberry light syrup or juice reduction…very brisk but nice match with sorbet and cheese.
Served with an Auslese, which was a bit overwhelmed by the above
We moved to the lounge area after desert, and finished the meal with bone marrow caramels..very hearty, serve in cut round bone sections as the filling. Hearty, dense, powerful. We drank it with aquavit from Denmark; apple, and I think peach distillation based.
Overall, while it is presumptuous of me to rate a restaurant, if I did, it would shake out like this:
Culinary vision and execution-A++
Service A-
Wines B+
Food ingredient quality: A++
Atmosphere: A
Overall: A+
Price: $$$$$ (this was the most expensive meal I've ever had for two)
NOMA delivers an exceptional experience that was truly unique, and highly unlikely to be duplicated elsewhere. If a good friend asked if they should go, I would say "YES!". Vicky and I had a wonderful time and will not soon forget our evening together at NOMA.
The cuisine helps you feel in touch with a place, you feel like your eating somewhere, not anywhere. It's a locavore experience that surrounds you with the idea in the dining experience, not just saying it. The food was technically very good, naturalistic, truly locavor oriented, subtle, and visionary. Not food of fireworks and overwrought clichés..just a very intense ecological message quietly but forecefully presented. Also, one last comment. At times, a meal of this length and complexity leaves us feeling over fed, uncomfortable, and unhealthy. NOMA was a pleasant exception to this. Vicky and I left feeling good, and feeling good the day after. Somehow, we felt refreshed and healthier. The design of the meal components reflected the earth and its balance between plant and animal kingdoms, and made extensive use of items that were more hunter gatherer based diets, rather than cultivated. Seaweed, beech nuts, lichen, forest mushroom, fir needles, wild seafood. I loved that, feeling like what we ate was a reflection of our ecosystem, yet regionally based and authentic. That's a big plus
Comments
Commenting has been turned off.